Today China is one of the largest and fastest growing economies in the world. There are many large corporations in China, and these are not only high-tech giants. The total capitalization of 170 largest Chinese companies today exceeded $ 7.5 trillion. Therefore, the acquisition of their shares is undoubtedly of interest for
diversifying the investment portfolio .
The structure of shares of the Chinese stock market
Shares of the Chinese stock market, like any other, are divided into three echelons.
First echelon
The first echelon includes shares with the highest degree of liquidity. Companies that have issued shares are highly stable, practically insensitive to small changes in the market. They are characterized by a very high, about 90%, free-float coefficient and a narrow spread. These are the blue chips of China.
Free-float – the percentage of shares freely traded on the market in relation to the total number of the company's shares.
Spread is an indicator of the difference between the buy and sell price of a stock at a single point in time.
According to the Hang Seng Index (HSI) (Hong Kong Stock Exchange Index). China's blue-chip list includes such giants as Geely Automobile, Galaxy Entertainment Group, Lenovo and others.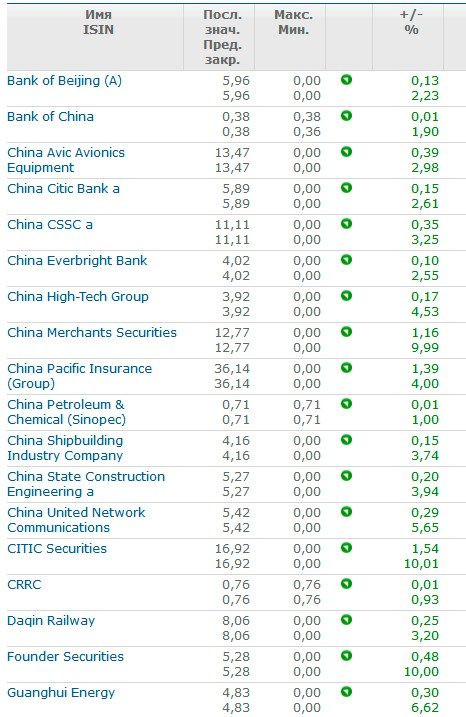 Chinese blue chips
However, the main Chinese blue-chip index is the SSE 50 Index. It includes 50 companies, which are the largest in China, with the highest level of capitalization, and their shares show the best performance in terms of reliability and liquidity. This list includes banking, industrial and trading corporations well known in the world market, including such as – Bank of China, Orient Securities; Bank of Beijing; PetroChina (the first corporation in the world to achieve a capitalization level of one trillion dollars); China National Nuclear Power and others.
Second echelon
These are shares of fairly large companies that have, although less than in the first echelon, a fairly high degree of liquidity. Second-tier stocks average in terms of free-float, sales, risk and return. The spread for such stocks is much wider than that of blue chips.
Third echelon
Shares of third-tier companies have a very low level of liquidity, have the lowest cost and free-float ratio. The trading volume for these shares is small. They carry high risks and a very wide spread. Three echelons of Chinese stocks:

List of blue-chip stocks of the Chinese stock market
In September 2021, China published a list of the 500 largest corporations in the state. As listed jointly by the China Enterprise Directors Association and the China Enterprise Confederation. The combined income of these enterprises was 89.83 trillion JPY (13.9 trillion $). and showed an increase in profitability, respectively, 4.43% when compared with the same period of the previous year. The profit received by these enterprises in 2020 amounted to a record JPY 4.07 trillion (an increase of 4.59%). The level of operating income required for listing also increased, reaching 39.24 billion JPY, up 3.28 billion JPY over the previous period. Companies whose revenues grew by more than 100 billion JPY exceeded 200 (actually 222 companies) and 8 of them exceeded the threshold of profitability of 1 trillion JPY.

Despite the confrontation that is unfolding between the United States and China, the industrial structure of the latter has improved significantly. This makes the securities of Chinese companies very attractive on the stock market. The list of the largest companies (Chinese blue chips) includes high-tech companies that operate in the field of production, communications logistics. List of 8 largest Chinese companies (blue chips) according to FORTUNE GLOBAL 500:
| | | | | |
| --- | --- | --- | --- | --- |
| Place in the Chinese market | Company name | Dislocation | Profit in millions of $ | Place according to FORTUNE GLOBAL 500 |
| one | State Grid | Beijing | 386618 | 2 |
| 2 | China National Petroleum | Beijing | 283958 | 4 |
| 3 | Sinopec Group | Beijing | 283728 | 5 |
| 4 | China State Construction Engineering | Beijing | 234425 | thirteen |
| 5 | Ping An Insurance | Shenzhen | 191509 | sixteen |
| 6 | Industrial & Commercial Bank of China | Beijing | 182794 | twenty |
| 7 | China Construction Bank | Beijing | 172000 | 25 |
| eight | Agricultural Bank of China | Beijing | 153885 | 29 |
Several blue-chip companies in China
These companies are the most promising for investments, as well as for working with their shares on the stock markets. They have a high level of capitalization and generate consistently high income. Their shares are attractive for long-term investment. For example:
State Grid is a Chinese state company, the world's largest enterprise that is engaged in the construction of nuclear power plants in many countries of the world and the distribution of electricity throughout the PRC. In addition, through its subsidiaries, it actively invests in the development of power grids and the construction of new facilities abroad (Brazil, the Philippines, etc.).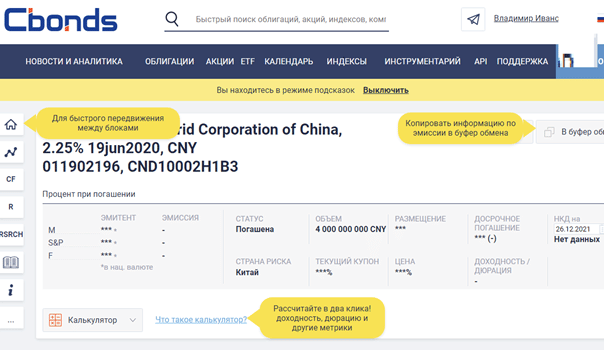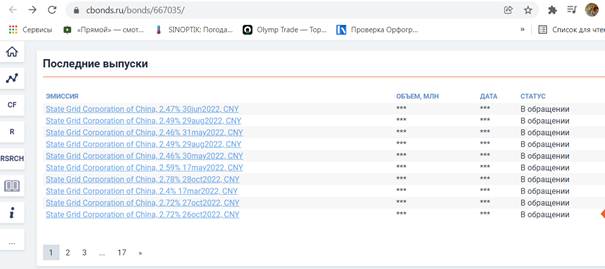 According to the results of the auction, the financial condition of the company is as follows.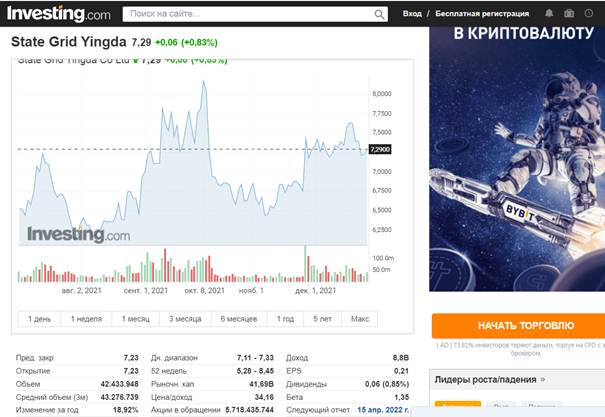 China National PetroleumIs the largest oil and gas company in China, which is completely state-owned and has an almost monopoly position on the domestic market. It has a number of subsidiaries (PetroChina, Kunlun Energy, etc.). As of 2019, its total assets amounted to 2.732 trillion JPY, and the number of employees reaches almost 500 thousand people. The stock price of China National Petroleum today is: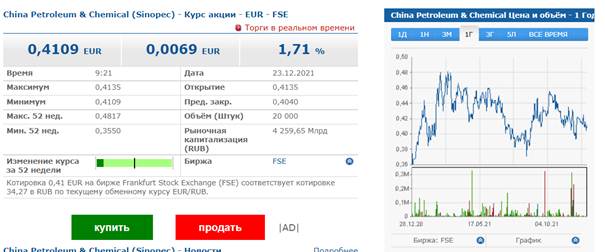 A dynamics and forecasts for it:

Other Chinese blue chips, shown in the table, demonstrate approximately the same dynamics.
How can you buy Chinese blue chips?
The stability and profitability of China's blue-chip securities make them attractive investment targets. You can buy such papers.
On Russian stock exchanges
Some positions of Chinese securities are readily available on the Russian stock market. These are not only shares, but also
depository receipts (ADRs). They are freely traded on the St. Petersburg Stock Exchange and are quoted in US dollars. On the St. Petersburg stock exchange you can purchase:
Alibaba Group Holding Limited (BABA);
Aluminum Corporation of China Li (ACH);
Baidu, Inc. (BIDU);
China Eastern Airlines Corporati (CEA);
China Life Insurance Company Lim. (LFC);
China Southern Airlines Company (ZNH);
Hello Group Inc. (MOMO);
Huaneng Power International, Inc. (HNP);
Huazhu Group Limited (HTHT);
com, Inc. (JD);
JOYY Inc. (YY);
NetEase, Inc. (NTES);
PetroChina Company Limited (PTR);
Sinopec Shanghai Petrochemical (SHI);
com Limited (SOHU);
TAL Education Group (TAL);
Vipshop Holdings Limited (VIPS);
Weibo Corporation (WB);
China Mobile (Hong Kong) Ltd. (CHL);
China Telecom Corporation Limite (CHA)
And others, today there are about 30 positions. On the Moscow Exchange, quotes are quoted in rubles and are presented in the following main versions:
Alibaba Group Holding Limited (BABA-RM)
Baidu, Inc. (BIDU-RM)
PetroChina Company Limited (PTR-RM)
com, Inc. (JD-RM)
Li Auto Inc. (LI-RM)
NIO Inc. (NIO-RM)
TAL Education Group (TAL-RM)
Vipshop Holdings Limited (VIPS-RM)
However, the number of options continues to grow steadily. For most traders who are just starting their work in the stock market, this may be enough. It is not difficult to start working with them; it is quite enough to open
an individual investment account (exchange account). Given that the shares were listed on the Russian stock exchange, the entire list of tax incentives applies to them, which relate to the acquisition of shares in domestic companies.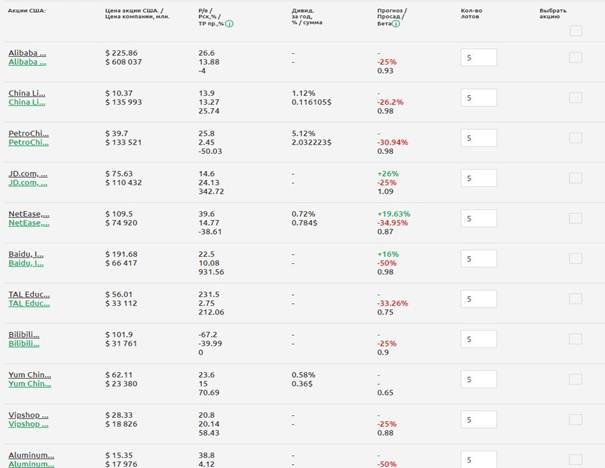 Through foreign brokers
Investors who want to work with a wider variety of blue chips from China than the domestic market can offer can open accounts with overseas brokers. The largest number of Chinese blue-chip stocks in 2021 were traded on the US stock exchanges (New York Stock Exchange, NASDAQ, and others). In order to start trading in Chinese stocks on these exchanges, you should contact the appropriate brokers, such as:
Charles Schwab,
E * Trade,
Interactive Brokers,
TD Ameritrade, and others.
Through direct investment in the PRC
Direct investments directly in China will turn out to be the most profitable and expedient, this will allow you to use the minimum commission, but the amounts that will be invested will be quite large, and this is unlikely to be suitable for novice investors.
Through collective investment in Chinese securities
Another way to gain access to the opportunity to work with Chinese equities is through the acquisition of ΕTF. By investing in ΕTF, the investor buys not individual shares, but immediately a block of shares in various Chinese companies. Thus, investing funds not in a specific company, but in the entire stock market of China. ΕTF can be purchased on the Moscow Exchange. These include AKCH, operator of UK Alfa-Capital LLC and FXCN, operator of FinEx F unds plc.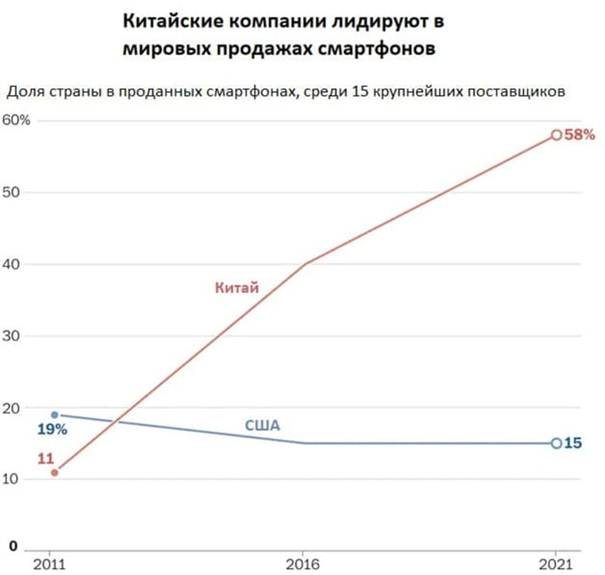 The fund's commission is 0.9% per year, assets are denominated in yen, but trading is carried out in US dollars and rubles, the Solactive GBS China ex A-Shares Large & Mid Cap USD indices are monitored. The main parts consist of the securities of Tencent Holdings Ltd., Alibaba Group Holding Ltd. and Meituan Class B, they hold more than 1/3 of the investment portfolio, which consists of 230 securities. Alfa Capital's AKCH Exchange Traded Fund tracks the Xtrackers Harvest 60% and KraneShares China 40%. He just buys ASHR and KWEB ETFs, however his commission is 1.61%. This is a commission excluding ETF commissions, 0.65% for ASHR and 0.76% for KWEB. Trading is carried out in rubles.
Benefits and risks of investing in blue chips in the Chinese market
In recent decades, China has developed with amazing intensity, and today it is rightfully considered the second (after the United States) economy in the world. But at the same time, there is no consensus among investors about the stability of its economy. This is due to the political system prevailing in the country. In addition, the United States opposes the overly active external expansion of Chinese companies. Therefore, in forecasts for 2022, the opinion is increasingly prevalent that the growth of the Chinese economy will sharply slow down. This cannot but affect the value and profitability of Chinese blue chips. And naturally increases the risks with long-term investments.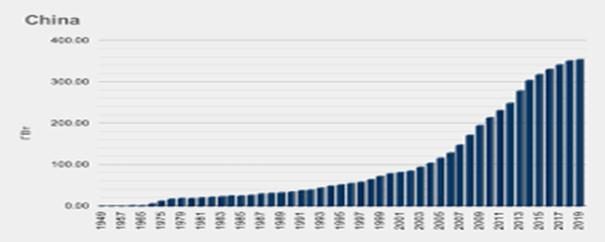 How Much Funds Should You Invest in Chinese Blue Chips?
In such an ambiguous situation, when buying shares of Chinese companies, it is necessary to observe moderation. There is no certainty that a bright tomorrow awaits all companies in this country. But one should not discount the fact that the Chinese economy has far from exhausted its potential and has all the prerequisites for continued rapid growth. Therefore, the best solution would be to invest 6-12% of your investment portfolio in Chinese blue chips. This will allow you to minimize your risks and at the same time make money on investments.
Advantages of Investing in Blue Chips in China
The undoubted advantages of investing in Chinese securities include:
high rate of GDP growth (on average more than 8% per year) over a number of years;
high share of high-tech production in the country's economy;
high competitiveness of Chinese goods in the foreign market;
low cost of labor and the presence of a huge number of able-bodied population;
strict control by the authorities, which significantly reduces the possibility of manipulation and deception of investors.
Cons of investment
But along with the pluses, investments in China have a number of minuses:
the uncertainty created by the political system;
the possibility of a "trade war" on the part of the US and the EU;
the risk of imposing sanctions;
inaccuracy of the data provided.
Does it make sense to buy Chinese blue chips?
Undoubtedly, it is advisable to purchase shares of Chinese companies. Some of the shares of the most interesting Chinese companies should be present in investment portfolios as an asset for potential growth. But using China's blue-chip stocks to generate passive income is hardly advisable.