ETF Finex – what are we talking about, the profitability of funds for 2022, what is included and how to make a portfolio and not lose.
ETF (Exchange-traded fund) is an exchange-traded fund in which stocks, commodities or bonds are selected based on a strategy for following some kind of index or for a specific strategy.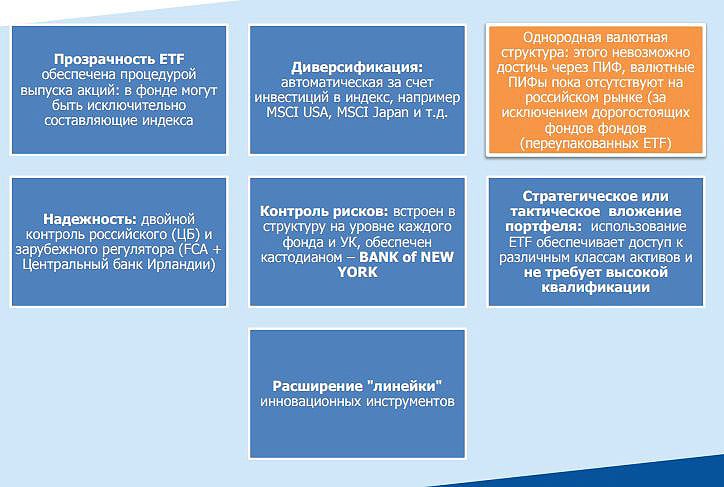 A fund share entitles its owner to a certain part of the assets. Investing in ETFs allows small capital investors to build
a highly diversified portfolio . The minimum value of an ETF share on the MICEX is 1 ruble. Buying a stock in an ETF is like investing in all the assets that make up the fund. In order to collect such a portfolio independently and in certain proportions, a capital of at least 500-2000 thousand rubles is required.
A common analogy for explaining exchange-traded funds is soup. You need a bowl of soup, but cooking it yourself is very expensive – you need a lot of ingredients in certain proportions. It's expensive and difficult. Instead, the ETF cooks soup and sells one serving to the investor.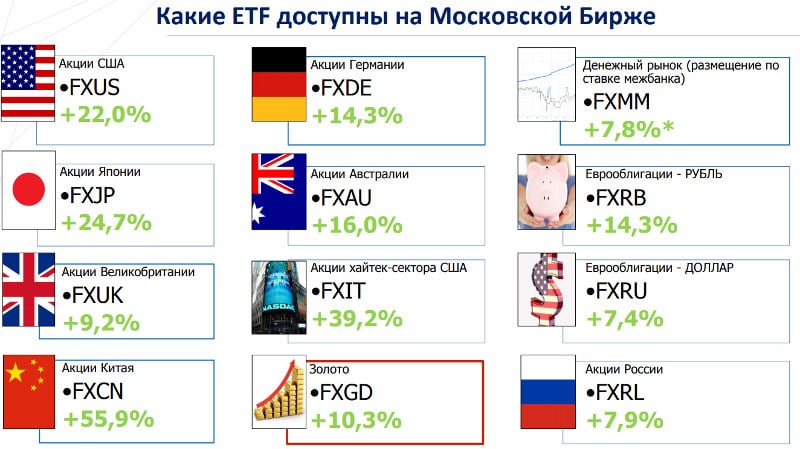 ETF Finex – composition and yield in 2022
Finex ETFs are listed on the Moscow Exchange. To buy FinEX ETF, you do not need to have the status of a qualified investor, it is enough to pass a test from a broker on knowledge of the basics. Finex offers the following ETFs for 2022:
Investments in bonds
FXRB – Russian ruble Eurobonds;
FXIP – the currency of the fund is rubles, they invest in US government bonds;
FXRU – dollar Eurobonds of the Russian Federation;
FXFA – investments in high-yield bonds of developed countries, the currency of the fund is rubles or dollars;
FXRD – dollar high yield bonds;
FXTP – US government bonds, built-in inflation protection;
FXTB – short-term American bonds;
FXMM – US money market hedge instruments;
FXKZ – investments in shares of Kazakhstan;
FXWO – shares of the world market;
FXRL – follows the dynamics of the RTS;
FXUS – follows the SP500 index ;
FXIT – investments in shares of the US technology sector;
FXCN – China shares;
FXDE – shares of Germany;
FXIM – shares of the US IT sector;
FXES – shares of companies involved in the development of video games;
FXRE – the fund allows you to invest in US real estate;
FXEM – shares of emerging countries (except China and India);
FXRW – invest in highly capitalized US stocks;
Investment in goods
FXGD – the fund invests in physical gold.

All ETFs from Finex can be found at https://finex-etf.ru/products
What affects the return on funds?
Main factors:
The return of the fund depends on the change in the quotes of the index or commodity followed by the ETF.
You should pay attention to the commission of the fund. ETF Finex has a commission of up to 0.95%. It is deducted from the value of the fund's assets, the investor does not pay it additionally. You should also pay attention to the brokerage commission for the transaction. The more transactions an investor makes, selling and buying ETFs, the lower the yield as a result.
Most often, dividends are reinvested, increasing the overall return of the fund. As of January 2022, only the FXRD fund – high-yield corporate bonds with protection against currency fluctuations – pays dividends.
Profits from ETFs are taxed at a rate of 13% like any other income. To avoid tax, you should purchase ETFs on a regular brokerage account and hold for at least 3 years. Or buy ETF on IIS type B.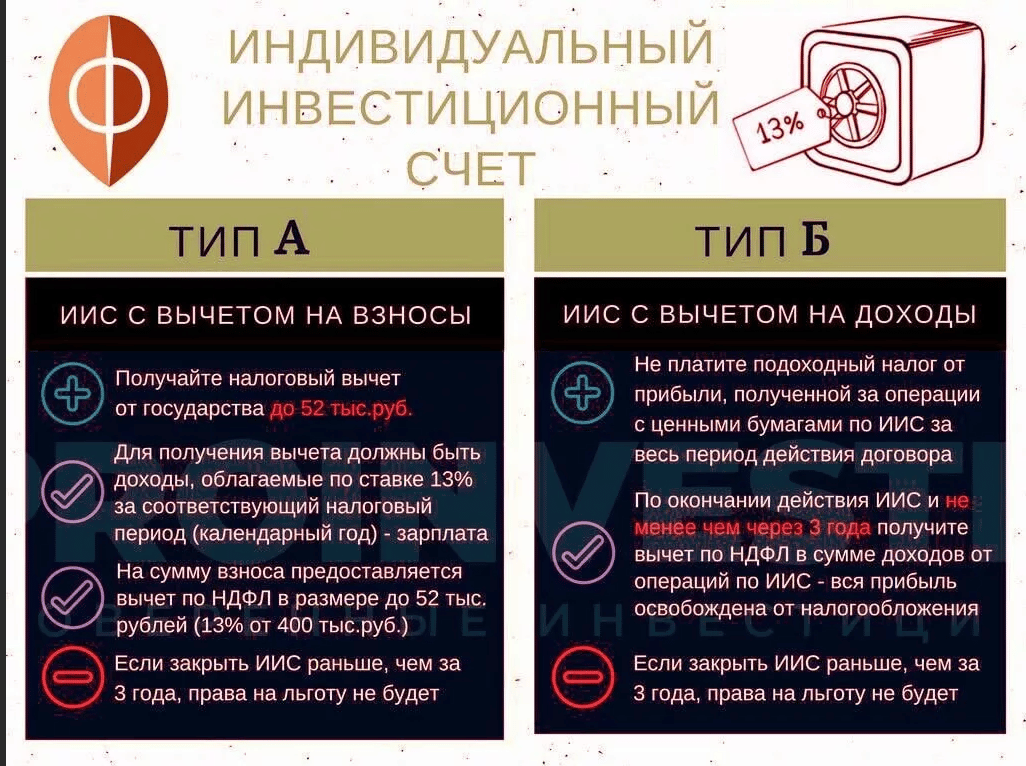 The provider's website provides information about the fund, as well as a graph of returns for recent years. You can select a specific period or download data for analysis in xls format. Analysts recommend not to make a conclusion about the dynamics of the fund based on the profitability of recent months. The result obtained may be random. It is better to focus on the average historical performance and the risk of a particular asset class.
How to choose an ETF for investment?
Before you start choosing assets, you need to draw up a trading strategy. Consider your investment horizon and risk tolerance. A portfolio of ETF funds should include different assets – stocks of different sectors and countries, bonds and investments in protective assets. Gold is traditionally used as a protective asset. It usually rises with the price level and protects the money from inflation. During a crisis, it is a refuge – it grows while stocks fall. Investments in precious metals are provided by the Finex provider through the exchange-traded fund FXGD. This is a dollar instrument for investing in physical gold without VAT. Etf FXGD tracks the price of gold on the global market as accurately as possible.

The share of bonds should be larger if you are building a conservative portfolio with low volatility. The difference between a bond fund and a direct purchase of bonds is that the ETF does not hold bonds to maturity, but replaces them in a timely manner to flatten the yield curve. The average duration is at the same level. It is worth noting that some funds overlap. For example, both FXWO and FXRW have US stocks in them, as do US stocks and S&P500 stocks. Beginners are not recommended to bet on only one country. The tabs on the Finkes official website will help you decide on the strategy:
risk profile test – asked to answer several questions to determine risk tolerance;
IIS calculator – determination of approximate profitability when investing in an individual investment account;
pension calculator – will help determine the amount of annual replenishment to receive an acceptable monthly increase in pension.
The Finex service will help you compare funds by profitability. Go to the All ETFs tab on the official website
https://finex-etf.ru/products , then you should select several funds and click the compare button. A filter will help you select the funds you need. You can select funds by asset class, by trading or fund currency, and by investment purpose:
instead of a deposit in dollars;
instead of a deposit in rubles;
protective assets;
stable in dollars;
stable in rubles;
the most profitable of the year.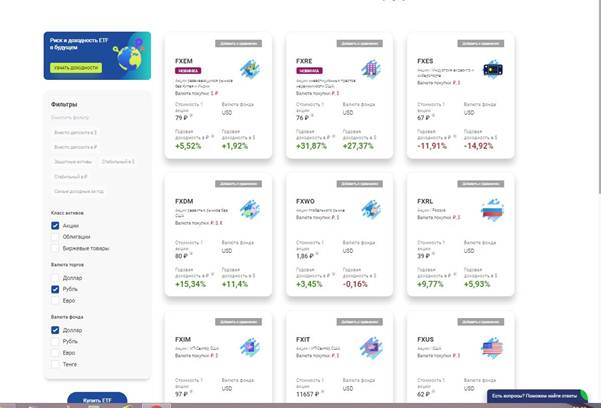 Beginning investors are advised to invest in all stocks at once, rather than specific industries. So there is less chance of making a mistake. You can add a small part of the assets of a fund that seems promising to you. As a result, you can make a portfolio of 60% stock funds, 25% bonds, 5% promising industries and 10% gold. To create a portfolio, go to the Portfolio Constructor tab https://finex-etf.ru/calc/constructor.

How to build a portfolio from FinEX ETFs and ready-made model portfolios
It can be difficult for beginners to decide on a trading strategy and choose specific funds for investment. To make it easier for the investor, Finex has compiled several model portfolios. The investor can enter the initial data on the Robo-calculator tab:
amount of initial capital;
monthly replenishment;
term of investment;
your age;
risk level – it should be understood that the higher the risk, the higher the income can be;
availability of funds of all countries in the portfolio;
purpose of investment.

Based on the initial data, the robot selects the optimal exchange-traded funds in a certain proportion. As a result, a chart of funds will be shown, and an approximate return based on historical data. The calculation can be sent by e-mail and will return to it later. You can change the initial data and make several options for comparison.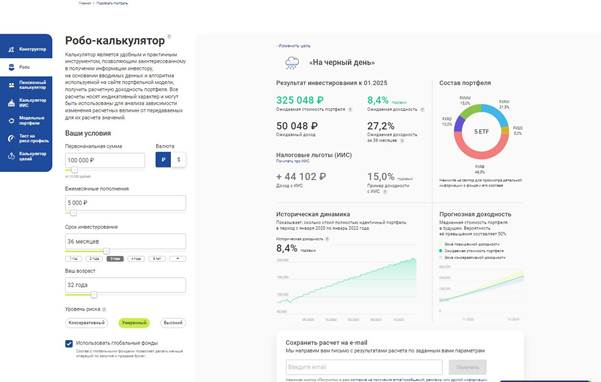 If it is difficult to decide on such a large number of parameters, choose one of the 5 modal portfolios. To get acquainted with them, go to the Model Portfolios tab https://finex-etf.ru/calc/model. The system will show the approximate profitability of the strategy, based on the initial amount and investment period. Model portfolios consist of exchange-traded funds in proportions that are best suited to implement popular investment strategies: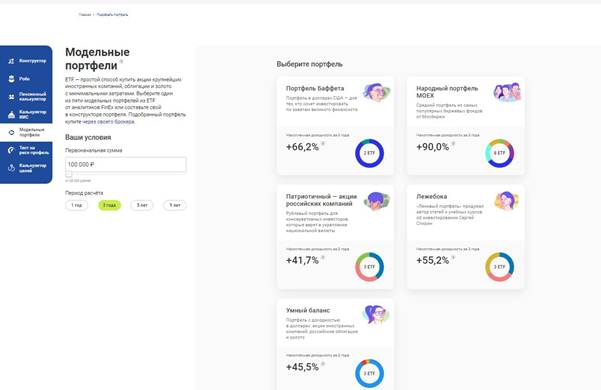 Buffett's portfolio is an investment on the precepts of a famous investor, consists of investments in US companies and short-term US bills. Suitable for high risk.
MOEX people's portfolio – the portfolio is made up of the most popular exchange-traded funds, which are published monthly by the Moscow Exchange. The composition of the model portfolio changes on the FInex website on a monthly basis.
Patriotic – a portfolio for investors who believe in Russian companies. Consists of funds for shares of the Russian Federation, bonds of the most reliable corporations and a ruble money market fund. Suitable for investors who do not want to select shares on their own.
Lezhebok – the implementation of the strategy of the famous Russian investor Sergei Spirin. Consists of 3 ETFs – for stocks, bonds and gold.
Smart balance – a portfolio with a dollar yield, consists of ETF on foreign shares of developed and developing countries. ETFs for gold and Russian corporate bonds have been added to reduce portfolio volatility. The portfolio is suitable for those people who want to invest in dollars.
To purchase an ETF, save the calculation and find the instruments through the broker's personal account or a special application. If you don't have a
brokerage account yet, you can open one by going to the Buy ETF tab.

Thus, the Finex provider offers tools for compiling a portfolio for investors with different goals and for any investment horizon. Both experienced investors and beginners can choose exchange-traded funds thanks to Finex services. Once you decide on a strategy and select the right funds, the most important thing is to stay on course. The market may rise or fall, a passive investor with a long investment horizon should not be worried. For long periods of investment, the chosen strategy will still bring results. The main thing is the regularity of replenishment and strict adherence to the strategy. What will happen if FinEx goes bankrupt, will funds continue to trade, and can ETFs themselves go bankrupt: https://youtu. be/RLGN7Si0geE During market corrections, you should not worry about losses in your brokerage account, but be glad that you can buy assets at a reduced price. Remember that this will bear fruit in the future. On historical charts, periods of correction are imperceptible, but in practice, overcoming them requires a strong will from the investor. Try to look less at the charts, only at the moments of buying assets according to the plan. Passive investors are not recommended to track quotes more than once a month.
Поделиться ссылкой: