Exchange trading looks promising to generate significant profits. However, to be successful in this area, it is important to work as efficiently as possible. Choosing the right broker is one of the most important steps for a successful business. The trader does not have the ability to directly access the exchange. In order to become a broker yourself, you need to acquire special permits and invest heavily. Access to trading on the exchange is a service that can be obtained by concluding an appropriate agreement with an intermediary.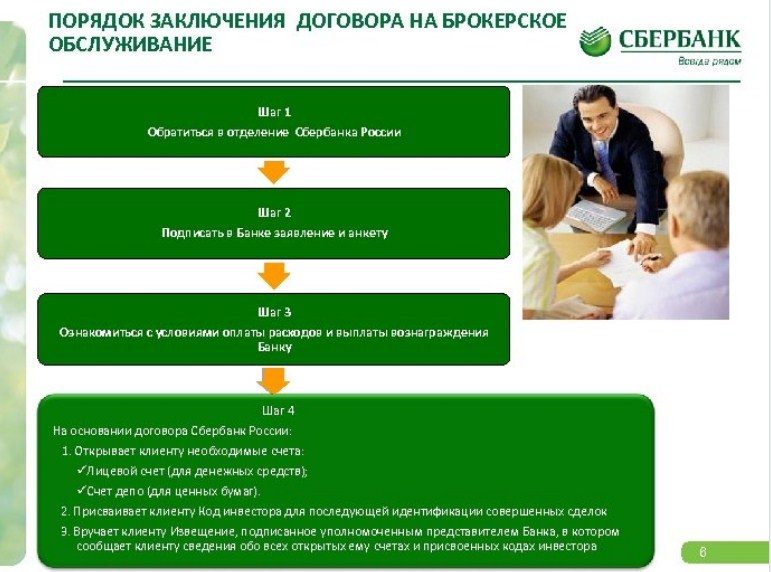 The procedure for concluding a brokerage service agreement with Sberbank [/ caption] At first glance, there is a significant number of brokers among which you can easily choose the right one. In fact, trading on the exchange lasts for a long time and the trader trusts the intermediary with significant funds. He relies on the quality of the transactions and must be confident that they will be carried out exactly as they should. Also of great importance is the profitability of the terms of service offered to him.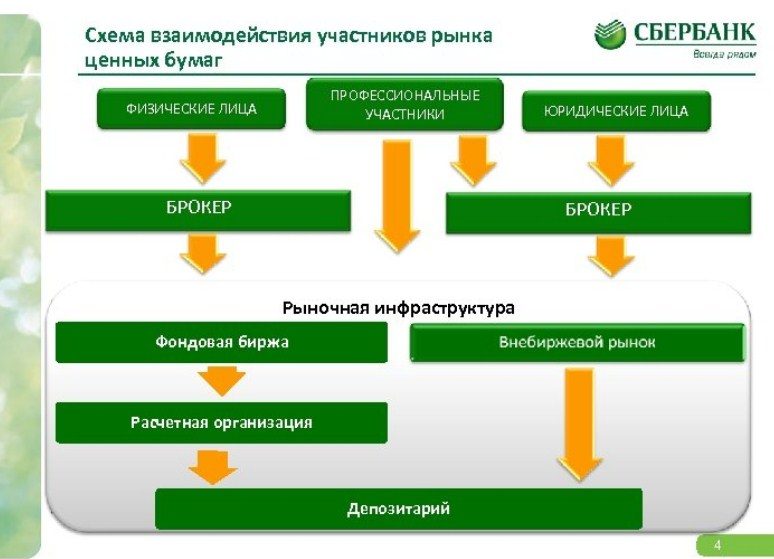 Interaction on the securities market [/ caption]
What is brokerage service and what is included in it
When trading on the exchange, all activities are carried out through a broker. In particular, he deals with the following:
Ensures the execution of transactions in strict accordance with their terms.
Accepts money to a trading account, keeps track of it and organizes withdrawal of funds on demand.
Provides a working terminal that allows a trader to see price charts and use technical indicators to make decisions.
Provides leverage for transactions.
Other options are also provided:
Sometimes the broker conducts training for beginners and helps to improve the qualifications of experienced traders.
May provide additional bonuses. As an example, we can recall the possibility of no deposit trading. In this case, the trader is transferred to the account an amount sufficient to start trading.
Trading signals are provided for making deals.
You can use the services of experienced traders to copy trades. In this case, a beginner can perform actions in the same way as professionals perform them.
The broker can provide the ability to use special programs – advisors , which make it possible to trade in automatic mode.
Provides important economic information that may have an impact on changes in stock prices.
Often the broker will arrange for the opportunity to transfer money to the management of experienced professionals for appropriate remuneration.
The quality of the support team is important. She helps clients to solve problems that have arisen in the course of their activities.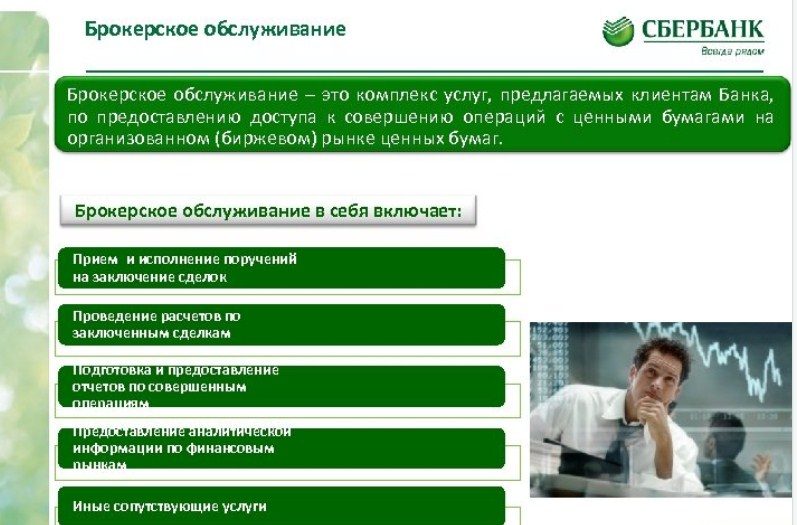 What does Sberbank's brokerage service include [/ caption]
Who provides brokerage services in Russia in 2021 – conditions and tariffs of Sberbank, VTB, Tinkoff, Finam, etc.
Brokers' rights and obligations are regulated by law. In order to carry out activities in this area, you need to obtain a special license. Although traders often work with brokers from their own country, it is possible to enter into agreements with those who belong to exchanges from other countries. When choosing a broker, the rating of the best of them can help. Depending on the criteria used (the volume of transactions, the number of clients, etc.), the first places can be distributed in different ways, but the leaders will definitely include the following companies in the list below. Stock brokers work with exchanges where stocks and bonds are traded. In Russia, the largest are the Moscow and St. Petersburg stock exchanges.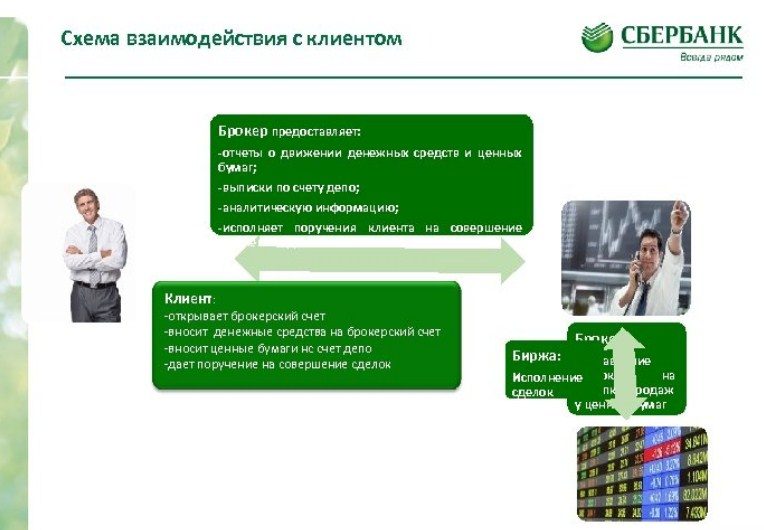 Scheme of interaction with the client [/ caption]
BCS Broker
This company has over two hundred thousand clients. The firm regularly takes first places in various competitions among brokers. The services offered include training in online investing and the trading profession. The company was awarded the highest reliability rating. To register, you must provide your passport details. For this, it is also possible to carry out this procedure through the State Services. Customers can take advantage of a dedicated mobile phone application. Commissions when paying for transactions are 0.0177% to 0.0354% of the volume for newbies. There are 15 tariffs. Work with Russian and foreign companies is allowed. Payment of a personal broker for 1% of the amount on a trading account for an annual service.

Tinkoff Investments
Free account opening and maintenance is provided. Transactions can be made through a browser as well as through a smartphone app. Analytical materials are provided for traders, including reviews and discussions of promising investment ideas. https://articles.opexflow.com/trading-bots/tinkoff-investicii.htm There is no minimum limit on account replenishment. Payment can be made without commission through a Tinkoff bank card. Payment is made only for transactions (commission from 0.025%). If they do not happen, then no money will be charged. The company can offer the client shares in the amount of RUB 25,000 as a bonus.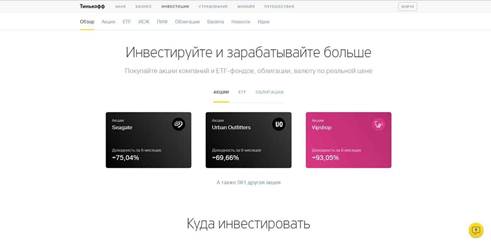 Broker Opening
The number of clients has exceeded 100 thousand. The firm has been assigned the highest possible reliability rating. You can open an account by visiting the office or remotely via the Internet. Training events are held regularly, including courses and seminars. This broker has been in the market for over 25 years and during this time has earned a solid reputation. Customers can choose from 4 tariff plans in accordance with their level of training and financial capabilities. It is allowed to open two or more sub-accounts on one account. There is a cashback payment for transactions in the amount of up to 50% of their amount.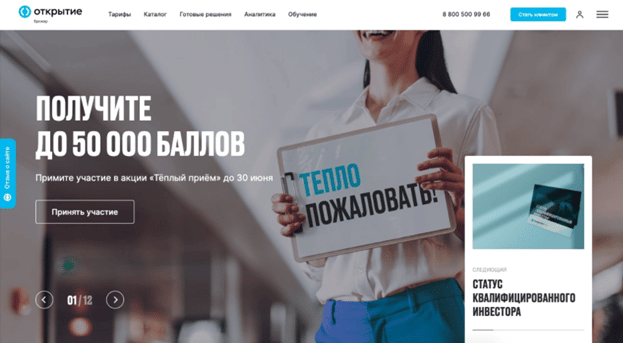 Finam
The company is considered one of the best brokers. It has over 200 thousand clients and has won more than 150 professional competitions. One of the important features is the presence of a large number of different tariffs, among which customers will surely find the most suitable for themselves. You can open an account online, in just a few minutes. For beginners, training courses are provided, for more experienced traders and investors, there are opportunities for advanced training. The minimum deposit for opening a trading account is 30 thousand rubles. A large number of trading instruments provide a trader or investor with good choices. Payment for each transaction from 45 kopecks.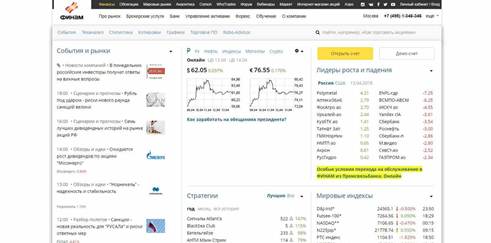 Sberbank
This bank has offices throughout the country. High reliability and quality service attract clients to his brokerage division. Clients can trade on their own or rely on expert advice in their trades. The opportunity is offered to deposit funds into ready-made investment portfolios, the composition of which has been prepared by professionals. The minimum amount allowed for trading depends on the selected instrument. In most cases, it does not exceed 1000 rubles. For most clients, the transaction fee is 0.3%. If we are talking about significant investments or highly active traders, then they will need to pay from 0.018%.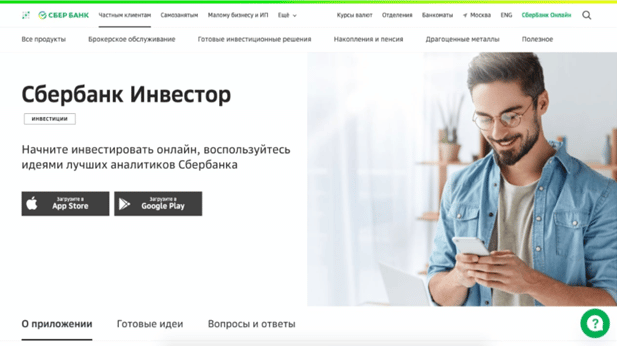 Detailed rates for brokerage services Sberbank Investment and Independent:
Sberbank Investment
Independent Comparison of Sberbank investor and Tinkoff investments – rates, conditions and regulations of brokerage services: https://youtu.be/3cXySWov6Nw
Brokerage rates
Brokerage business involves making a profit as follows:
In the form of payment of commissions for completed purchase and sale transactions.
How to pay the spread. Here we mean that when executing transactions for the purchase of an asset, the company increases the price by several points, and when selling, there is a corresponding decrease in value.
Some brokers provide a service fee that must be paid in due time.
The company can accept funds in management for payment in the form of commissions or part of profits.
Custody payments. The securities are not kept by the trader, but are deposited into a depository account. At the same time, they are stored on his account, for which it is necessary to make payments regularly.
Receiving commissions for depositing money to or withdrawing from a trading account.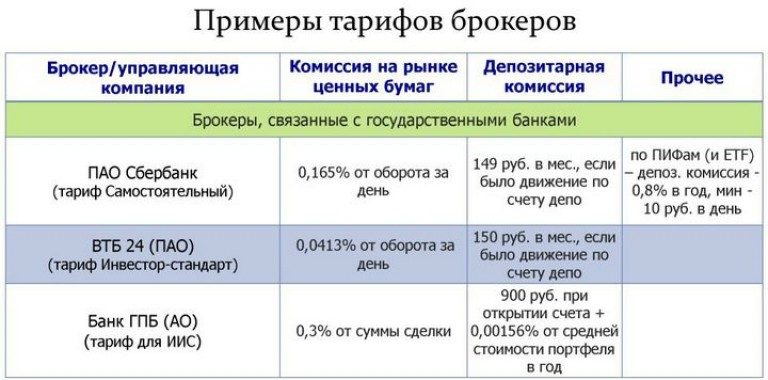 Examples of rates for servicing a brokerage account [/ caption] Often a brokerage company provides additional services for traders. They can be paid or free. An example is training in trading skills. For example, an introductory course for beginners can be free, and a master class with well-known masters of their craft can be paid. Brokers offer clients several tariffs that operate in accordance with certain rules. A trader must take into account his plans and the specifics of a particular situation in order to choose the most profitable option.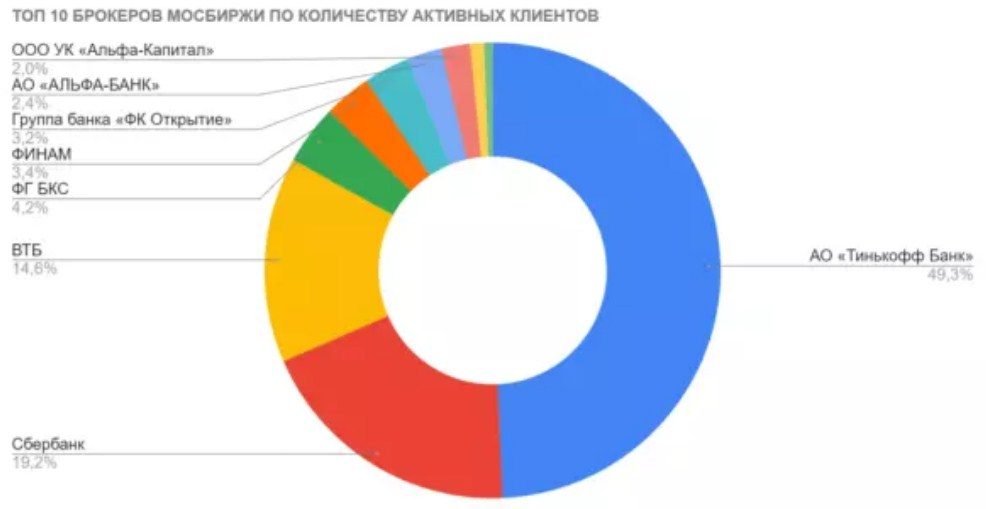 Share of brokers on the market [/ caption]
How to choose a broker
Choosing a brokerage company is an important step in organizing a trader's work. When considering each option, you should pay attention to the following:
You need to make sure that the broker is reliable. One of the defining conditions is that he has a license.
You need to find out about his reputation. To do this, you can familiarize yourself with what they write about the broker on the Internet.
You should carefully study the available rates. You should pay attention to the cost of service, the need to pay commissions for transactions.
To get started, indicate the minimum amount that must be deposited into a trading account. It must correspond to the financial capabilities of the client.
It is necessary to consider what are the approximate amounts of transactions. Sometimes it happens that a trader deposits an amount to the account that will allow him to make only 2-3 losing trades at most. This kind of trading is too risky.
You need to pay attention to the presence of various bonuses. Sometimes they can provide significant support in the work.
You need to make sure that the terminal offered to clients has the necessary capabilities for effective trading.
At times, cent accounts and other trading opportunities may be available at affordable rates. Their presence can be one of the steps for the improvement of beginners.
It is important to have analytical information, including an economic calendar and regular reviews.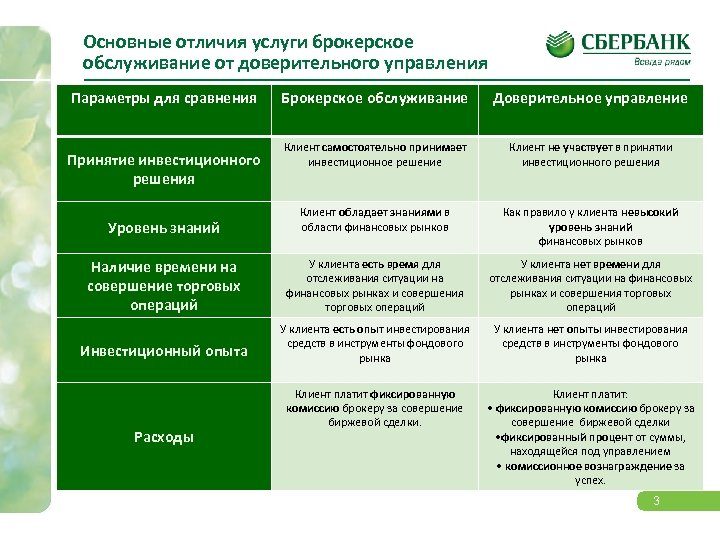 Sometimes it is beneficial for a trader to use one or another means to reduce his risks. You need to ask, for example, if there is an opportunity here to copy transactions, use advisors for automated trading, and receive high-quality trading signals. Brokers review: Tinkoff, VTB, Sberbank, how to choose a broker: https://youtu.be/VHdp8yKcxIA
Pitfalls and problems
Getting started with a broker is not particularly difficult for a trader. To do this, you need to choose the company you need, sign an agreement and deposit the agreed amount of money into your trading account. After that, you can start making deals at any convenient moment. However, this simplicity is deceiving. If the broker is chosen incorrectly, you can not only easily increase your losses, but also, albeit in rare cases, lose some or all of your funds. To prevent this from happening, you need to pay attention to the following nuances.
Trust in the broker
Regardless of the specific conditions of the proposed tariff, the main issue is confidence that the trader will be able to withdraw funds from the account at any convenient time. In the course of work, all movements on the trading account must be understandable and explainable. It is a mistake to think that the broker puts the welfare and loyalty of the client above all else. The company has its own interests and, as a rule, they are of decisive importance. Before you start working with a broker, you need to make sure by all available means that he has a reliable reputation and is worthy of trust. To do this, first of all, you need to make sure that you have the appropriate license.

Brokers with a license [/ caption] Next, you need to check how long the broker has been operating and what customers say about it. Over the years, there will be many reviews on the Internet. Having studied them, you can form your opinion about this company. If she is actually part of a well-known bank, then this can also be an argument in order to trust her more. It is also worth finding out the number of clients from this company.

The current list of where licensed brokerage services are provided at the end of 2021-beginning of 2022:
Brokers licensed by the Central Bank of the Russian Federation
Cent accounts
In order for a trader to trade with little risk and profit, brokers can provide cent accounts. This is common, for example, when working with currency pairs on the Forex market. At the same time, you need to understand that when a trader makes such transactions, the company does not copy them on the exchange due to their insignificant amounts. In practice, the total value is taken and in accordance with it a hedging transaction is made on the exchange. Such trades can be an initial step for the development of a trader, but it should be remembered that the gain in them is the loss of the broker. Therefore, in order to receive significant income, you need to switch to transactions that are actually executed on the exchange.
Accurate trade execution
It is generally accepted that the broker will definitely execute the deal exactly. In fact, this is not always the case. With rapid price changes, a delay in opening or closing a trade can significantly reduce a trader's profit. Therefore, it is important to choose a broker for whom such things do not happen. Another example of such a problem may be related to how the stop is closed. A situation is possible when 2-3 points were not enough before it, and then the price turned in the right direction. If, despite the existing gap, the stop has been triggered, it will be unprofitable for the trader. Such situations rarely occur, but if the price moves quickly and changes in leaps and bounds, then they become real. When a broker executes a deal accurately and as quickly as possible, the trader's success will depend on himself, on his professionalism and luck.Information about the quality of the company's work can usually be found by talking on specialized forums or reading customer reviews.
Поделиться ссылкой: