BCS World of Investments – what is it, how to open a brokerage account and brokerage service rates , how to register a personal account, stock trading in the My Broker application. The investment organization BCS began its activity in the field of brokerage services in 1995. It helps both new traders and participants in exchange trading with different capital and level of knowledge, as well as professional specialists of a high category. BCS is considered one of the most successful and
popular brokers in the Russian Federation, which for many years has been a leader among the capital's stock exchanges and does not plan to give up its place to other organizations. In this article, we will talk in more detail about this broker, what it is, and also tell you how to start investing with BCS Investments and what you should focus on in the process of investment activity.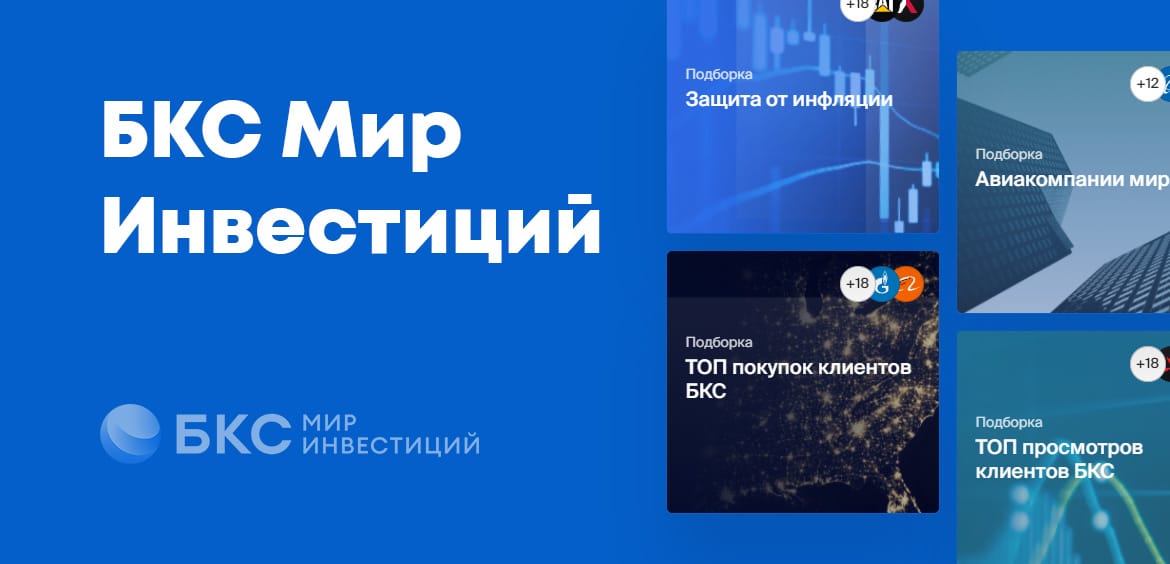 BCS World of Investments: advantages of one of the most popular investment companies
BCS investment company cooperates with both individuals and legal entities. Clients working with BCS highlight the following advantages of the platform:
Funds can be easily deposited into and withdrawn from the account . The user can use the online platform, available at any time with an Internet connection, bank transfers and telephone withdrawal services. You can replenish your account and withdraw funds through the cashier.
For investment activities, BCS specialists have developed a special trading terminal .
Convenient and practical mobile application with a wide range of functionality. The program is available both for iOS users – you can find it in the App Store, and for Android owners who can download the service from Google Play. The My broker service from BCS World Investments is free, adapts to the features of a mobile device.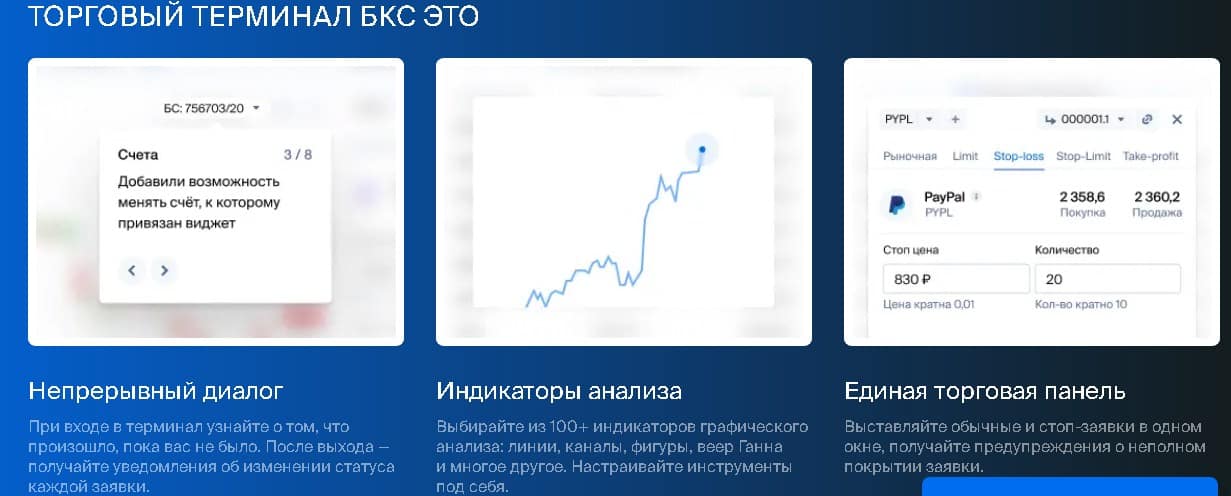 In addition, clients cooperating with BCS can choose the most profitable and favorite type of account from those presented. They are broken down by parameters: the size of the difference in the price of the seller and the buyer, available leverage, commission, types of fulfillment of contractual conditions.
Which markets can be entered through BCS Investments
Through BrokerCreditService, exchange traders and traders can access and conduct financial transactions on the following exchanges:
On the territory of the Russian Federation: Moscow and St. Petersburg stock exchanges.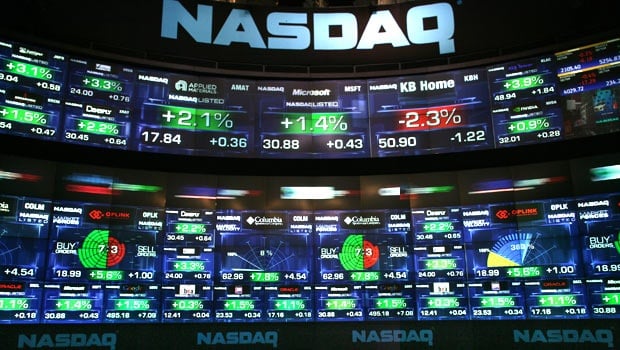 Note! According to feedback from regular customers and users, the functionality and features of the mobile application are especially advanced when compared with competing brokers. All information about the current price is presented to clients in real time, which enables exchange traders to carry out financial transactions faster and easier.
How to conduct financial transactions
To start being active through the BCS platform, you do not need a large start-up capital, you can enter the exchange with any amount.
Note! Exchange traders with experience can obtain qualifications through BCS, thanks to which a wider range of financial instruments will be available.
You can open a brokerage or individual investment account with the BCS investment company either by visiting the office branch in person or online, through the official website of the organization.
Note! To find out if there is a company office in your city, follow the link –
https://broker.ru/contacts?utm_referrer= and search for your city. If not, then you can apply for opening an account remotely.
If you do not want to immediately invest capital and start investment activities, but want to first explore the possibilities and boundaries of the platform, install a demo version of a brokerage account from the official BCS website. The virtual account has 300,000 rubles that can be "invested" in demo operations: for example, purchase stocks, bonds and other financial products. You can buy/sell on the derivatives, stock and currency exchanges.
Personal account in BCS World of Investments: login and registration of a personal account
As soon as the client opens any of the three accounts with BCS (banking, brokerage or individual investment), he can begin to conduct financial transactions, invest capital and form
a portfolio . Each user automatically after opening an account becomes the owner of a personal account for financial transactions.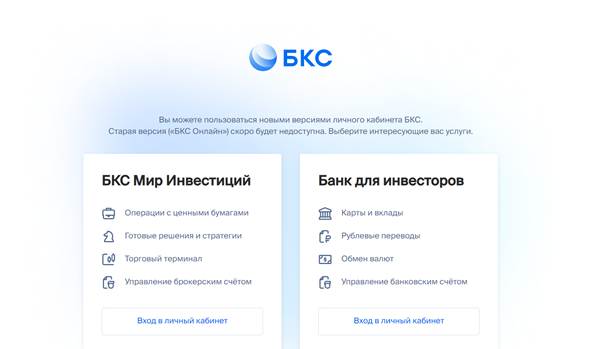 How to enter your personal account BCS Investments
You can get into the online system only after passing through two levels of protection, in which the user must:
come up with and indicate a secret code;
specify a set of numbers that will be sent to the phone number specified when filling out the questionnaire during the registration process.
Clients can enter the BCS World of Investments personal account through a browser from any device using the link https://lk.bcs.ru/, it is only important to have a stable Internet connection.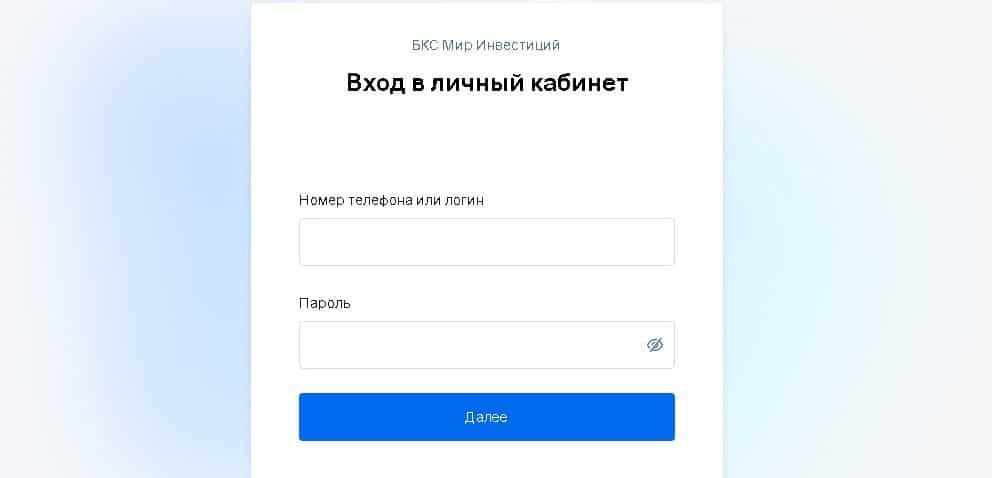 Functionality of a personal account
In the account, each client can:
control bank, brokerage and individual investment accounts, keep records on them and manage funds;
carry out currency exchange according to the market rate;
carry out financial transactions on the futures stock exchange;
view the history of completed transfers on accounts;
generate reports.
Access to a personal BCS-Online account is available and free of charge for all users who have opened any account with BCS.
BCS tariff programs
At the moment, the investment company BCS Investments provides the following tariff plans:
Investor . This tariff involves training and support for beginners in exchange trading, but is also suitable for long-term investment activities if the portfolio is of medium size. Suitable for those whose monthly turnover is less than half a million rubles. The service and the mobile program are free and available at any time, the commission fee for withdrawing funds from the account is not charged only within the BCS platform, outside it – 0.1% of the total amount.
Trader . The company itself recommends choosing this program to those traders who conduct active financial transactions on the stock exchange and have large investment portfolios with a total size of more than 500,000 rubles. The service and the program for the mobile device are free as long as there are no transactions, after the first concluded – the service costs 299 rubles. Some financial transactions are subject to a fee ranging from 0.0708% to 0.3% of the total amount.

Trading terminal BCS World of Investments: functionality, interface and instructions for trading
The BCS Investment platform offers its clients several trading terminals, which are divided into categories for beginners and advanced traders. This includes terminals such as
QUIK , MetaTrader,
WebQuik and the like. You can download the BCS World of Investments trading terminal at https://bcs.ru/terminal.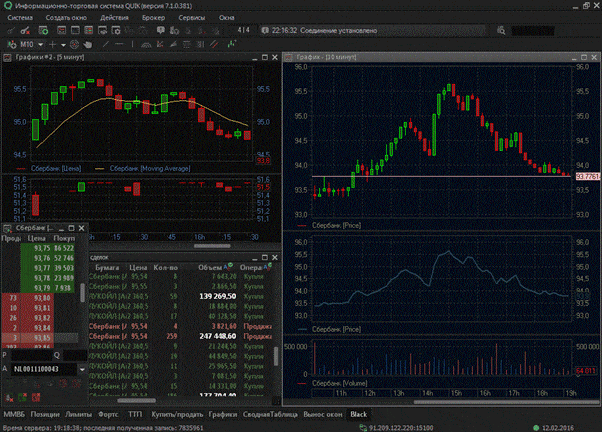 Note! To find out which of them will suit your goals and objectives, apply for a free online consultation with a broker or contact the company's branch in person.
Two platforms, QUIK and MetaTrader, are in the greatest demand among active participants in exchange trading. They are used for operations specifically on the basis of the BCS and are characterized by increased complexity in terms of functionality and work with them. Most novice traders and investors will find them uncomfortable and cluttered, but experienced professionals will appreciate them. You can install trading terminals on your personal computer or mobile device from the official page of the BCS investment company website. To log into your account, the system will require security keys, which can be found in the account of the broker's mobile application itself.

Note! If less than 30,000 rubles remain on the account every month, then you will have to pay for using the trading terminal.
Brokerage account BCS Investments: how to open it and on what conditions it works
How to open an account with a broker BCS World of Investments
Since not every city has branches of the investment company BCS Investments, clients can apply for opening accounts with a broker remotely – on the official website or through a program for mobile devices. It is also interesting that an application left online is considered faster than a client would visit a branch in the office with the same request, and the account itself becomes available for use on the very day of the request. We will figure out how to open a brokerage account in a mobile application or through the official website of BCS Investments. In both cases, the algorithm of actions is the same:
Specify the cell phone number, which will later be used as a login and portal for SMS notifications.
Confirm your identity by entering the code that will be sent to the specified phone number in the appropriate line.
Enter the required data in accordance with the identity document. You can enter information either manually or take a high-quality photo of your passport by attaching it to the application.
Choose from all the possible sources of income presented by the system that you plan to "light up" on the stock market.
Submit the current data and wait a few minutes, at which time the system will process the specified information and allow you to proceed to the next step.
Enter your individual taxpayer number.
Double-check all the specified data again and send them for verification, which will take no more than 10 minutes.
After processing the data, a code will be sent to the phone in the form of an SMS notification, with which you must confirm the agreement with the contract. Then send it and wait for the account to be activated – it will take no more than 15 minutes.
How to use BCS World of Investments – brokerage service, commissions and tariffs of BCS, application, IIS, terminal and structured products: https://youtu.be/kglu6xiprsM
BCS Investments for mobile devices: functionality, interface and trading conditions on the My Broker platform
The mobile application "BCS World of Investments" is in great demand among both beginners and experienced participants in exchange trading, as it is practical and convenient, because a smartphone is always at hand. The broker paid enough attention during development to optimize all sections, form categories and configure the program so that it is as convenient as possible for use.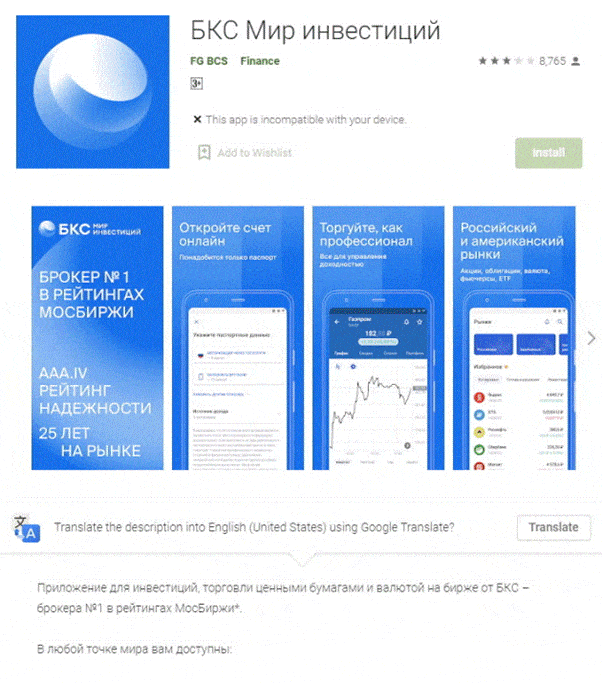 BCS Investment World – broker can be downloaded from the links: Google Play https://play.google.com/store/apps/details?id=ru.broker.my&hl=ru&gl=US App Store https://apps.apple.com /en/app/%D0%B1%D0%BA%D1%81-%D0%BC%D0%B8%D1%80-%D0%B8%D0%BD%D0%B2%D0%B5%D1% 81%D1%82%D0%B8%D1%86%D0%B8%D0%B9/id1033882791

The menu of the BCS World of Investments mobile program includes 5 categories:
Investment portfolio . All data on the account status at the current moment, current exchange rates and information about financial instruments are stored here. From here, the sections "Deposit" and "Withdraw funds" are available.
Exchanges . All current prices set for financial instruments are collected here. All of them can be marked with the "Favorites" flag. Also here are collected collections of practical and profitable investment ideas according to the interests of the participant.
Section "For you ". There are also selections of investment ideas and current financial instruments.
Communication . This section includes a chat where you can make a request or ask a question of interest.
"More" . Everything that is not in the previous categories is collected here: reports, papers, settings and conditions according to the tariff plan.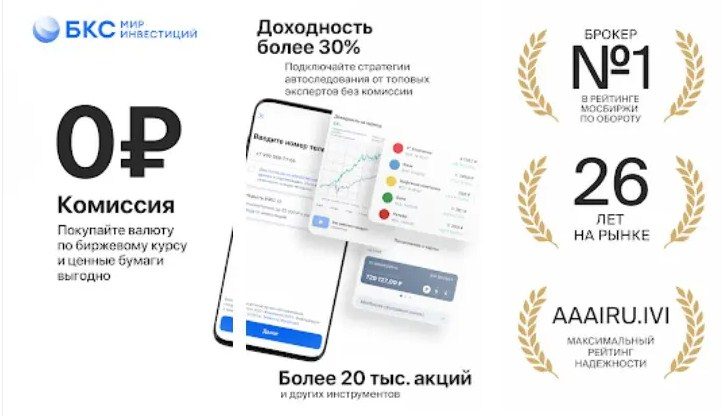 Note! Sometimes the BCS World of Investments mobile application may go for technical improvements, as a result of which it may crash, the tools may not be loaded, and some data will change. If you notice some differences from the version that you saved during your last visit, wait an hour or two, then log in again. If the new changes still remain, contact support.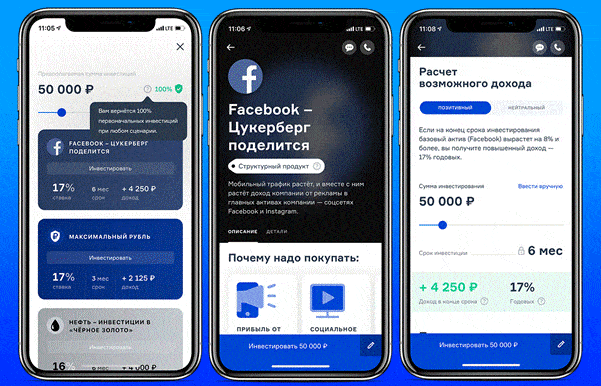 BCS Investments is one of the largest Russian investment companies, which is happy to support both beginners and experienced participants in exchange trading. It has great functional and promising capabilities, a wide range of financial instruments is presented. If the client is just starting to delve into investment activities, the broker will give all the necessary recommendations and advice, help form an investment portfolio and indicate the direction in which it would be desirable to move on. BCS World of Investments, honest feedback and review: https://youtu.be/veFCWFiGyV8 For experienced professionals, there is an option to use a trading terminal with wide functionality.
Поделиться ссылкой: