A trading robot is an algorithm-based software that automatically places trades on behalf of a trader. Robots are developed by experienced traders and mainly use the "WHAT IF" condition. These algorithms are put into software and executed one at a time. Some robots are programmed to take maximum profit from currency / cryptocurrency pairs on weekends, as there is a lower trading volume during this time. The question arises – how to choose the most suitable trading bot for trading on the world's stock exchanges, which can overclock the deposit? Let's try to answer this question.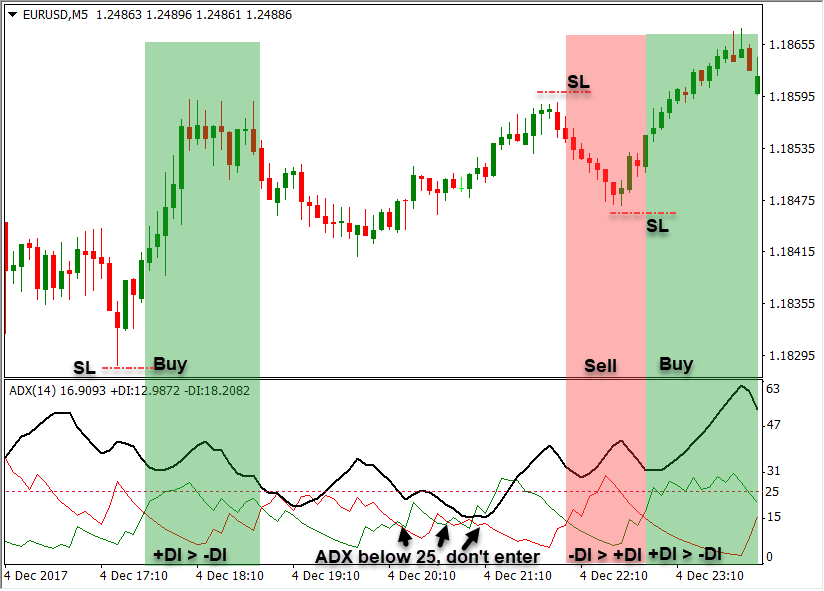 Forexrobot – typical interface [/ caption]
How robots work for stock market trading
Any robot is created with one goal – to make as many successful transactions as possible using the software and mathematical algorithms built into it. Many technical indicators are embedded in their software. The robots themselves continuously scan the market and find the best signals and entry points. Users can access publicly available technical indicators to build their own automated trading rules. For example, you can enter a condition for creating a long order when the 50-day average for the currency pairs is higher than the 100-day average on a 20-minute chart. After adding such a condition, the transaction is carried out automatically. In this case, the trader does not take any action. Robots provide users with the ability to set their own indicators. Once the trade order is executed,any protective mechanisms (stop loss or trailing deal) will be activated in accordance with the preset values.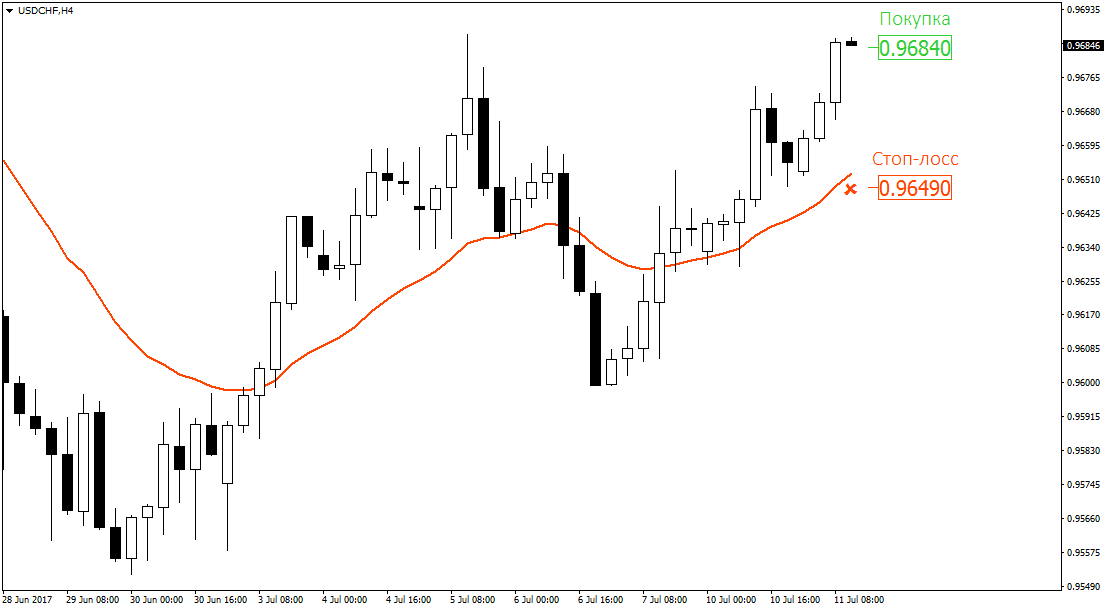 Tips and tricks for choosing to trade on the exchange
It is worth considering:
Buy robots from official developers . Avoid scam, virus software and other "nonsense". This way you will protect yourself from additional risks of losing money.
Compare the parameter "proven win rate" – it should be higher than the proven loss rate (preferably by 20-30%).
Explore the technical specifications – 100% automation level. The user should be relieved of the need to enter positions manually.
Check out the number of currency pairs offered by the robot. There should be as many of them as possible.
Price is another important factor to consider when shopping. Remember! The most expensive robots do not always win the most.
Number of positive reviews from real users.
These tips will help you choose a trading robot. Now let's look at the list of bots that, in our opinion, are the most effective and proven for the global exchange market. So let's get started.
Review of the most effective robots for trading
Alfa-Quant Forex Robot EA
Alfa-Quant Forex Robot is a revolutionary automated Forex trading robot based on neural network technology. It was created for intraday and swing trading.
Description of the Strategy
The robot's strategy is based on a reinforcement learning model. Using deep pools of data that simulate several market scenarios, the robot automatically adapts to new conditions and is able to consistently make a profit in volatile, flat and trending markets. This is how the program itself looks like: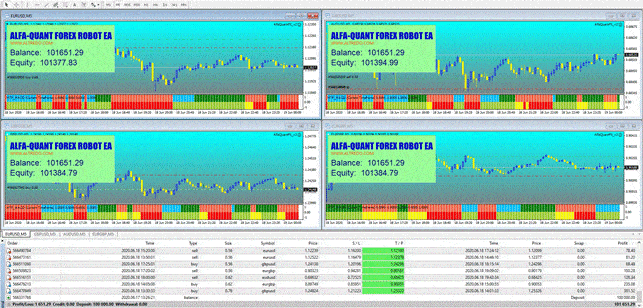 And below is a video with an example of how it works: https://rumble.com/embed/vhuoi3/?pub=4 Pros:
Potential loss coverage in case of a large number of negative trades.
The robot is able to automatically determine the current market trend, predict short-term price movement, volatility and open a position with 90% success accuracy.
Ideal for scalpers as it is fully automated.
Minuses:
Too high cost – about $ 300-400.
Crystal win
Trading robot Crystal Win is a fully automated program that performs trading operations in the foreign exchange market in accordance with a given algorithm and trading settings. Ideal for both novice traders and professionals with solid trading experience.
Principle of operation
The robot uses three scalping strategies: trading "from densities" – looking for a large bet worth several thousand dollars; for a breakout – searching for an ideal point for a "long" entry; on drawdowns – finding the ideal entry point for short positions. The key feature of the robot is its algorithm, which implements a trading strategy with maximum security for a deposit. Placed orders are closed much faster and there are many more orders within a certain period of time. The deposit grows even with small drawdowns. This is how the robot interface looks like: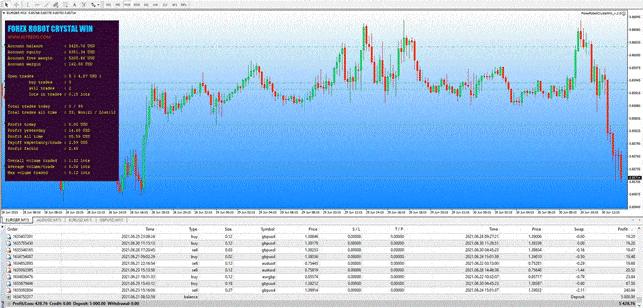 Pros:
"Multicurrency trading" is an option that significantly reduces risks, provides diversification of transactions and allows a trader to trade in small lots.
The percentage of the deal will be completed on average about 80-90%. This means that the robot is trading in plus with a probability of 80-90%, which means exactly the same chance of increasing the deposit.
Minuses:
Again, the high cost is $ 430.
Gold Trading Robot Power Trend
Gold is one of the very first assets to appear on the exchange. Compared to silver, platinum, palladium, gold is still in the greatest demand among traders and investors. The metal has low volatility and high profitability when trading in the long term. Investments in this asset usually pay off well and are less risky than investments in other metals. The Gold Power Trend trading robot is specially designed for trading gold assets on the Metatrader 5 (MT5) platform. Suitable for trading both trending and flat markets. Advantages:
There is a stop loss and a take profit.
The strategy is based on following the trend of the chart.
High level of optimization – the ability to create your own strategies.
Disadvantages:
High risk of losing money due to a sharp drop in price. In a few minutes, gold can rise or fall in price by 80-100 points. The robot is not capable of quick adaptation in such conditions.
https://rumble.com/embed/vht2nh/?pub=4
Investor Trade Copier
Investor Trade Copier is a unique robot that links the investor's account specified in advance by the user and copies transactions from it, repeating them exactly. In addition, the bot provides the user with the ability to manage transactions, as well as control profit and loss for several currency pairs using a number of parameters and settings.
Robot capabilities
Mass breakeven and trailing stop option to save profits.
Setting up the triggering of a deal by timer.
Accounting for swaps and commissions when calculating profit or loss.
A graphical toolbar that displays the current spread.
Free margin and equity option are available for extended launch conditions.
The ability to filter deals by numbers, instruments and order comments.
Combination of an unlimited number of conditions and filters.
The ability to configure push notifications that come to the email address or phone number.
Timeframe to automatically save user settings, restart the system, or change any options.
This is how the program interface looks like: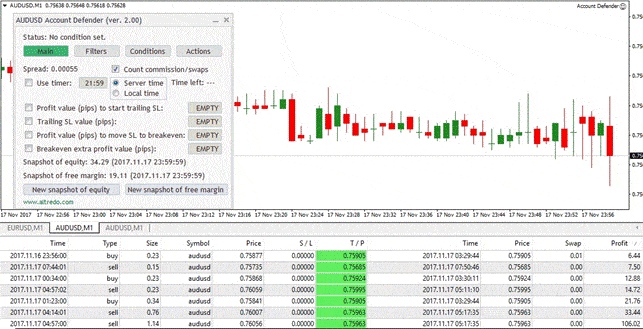 Advantages:
High system optimization.
Multifunctionality of settings and options.
Disadvantages:
A large number of negative reviews. Users note that the robot is not able to close most of the transactions in a plus and overclock the deposit.
RevenueBot
RevenueBot is a
robot designed for trading cryptocurrencies , in particular Bitcoin. Works with the most popular exchanges – Exmo, Livecoin, Binance, Binance Futures, Polonies, Bitfinex, Bittrex, OKEX, Bitmax, Kucoin. It does not require a large initial capital (the minimum deposit amount is $ 1). The robot itself has no trading time limits. This is how the interface looks like: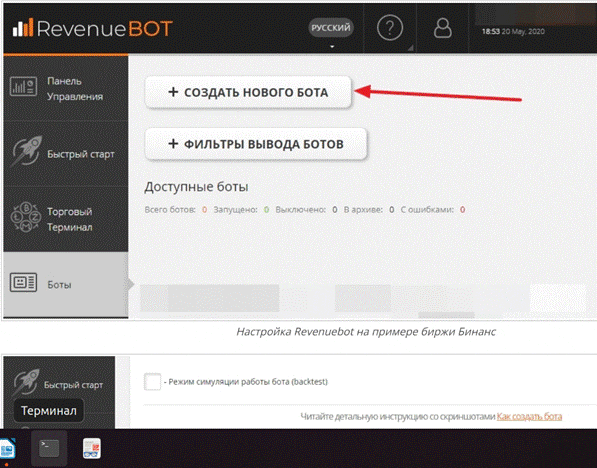 Principle of operation
The basis is a neural network that analyzes the price of a cryptocurrency in real time to find the best trade entry points for a position. Advantages:
Trailing stops system.
The robot is completely free. It can be downloaded from the official website – https://profinvestment.com/revenuebot.html/
A large number of supported exchanges.
The presence of useful options – backtests, smart order grid, volatility indicators, etc.
Disadvantages:
Sometimes the program crashes.
High commission – 20% of the profit from the bot.
Trading Robot Review: https://youtu.be/JrFE7Jbh2_8
Learn2trade
Learn2trade is a forex trading robot from a London-based trading education startup. The company annually publishes online scalping courses and financially supports all independent traders. Bot trading signals have a 93% success rate. Pros:
Possibility of delivering a notification about a signal through a special bot in Telegram.
Proven level of success.
Minuses:
Low service life – the robot has been on the market for similar products for only 1.5 years.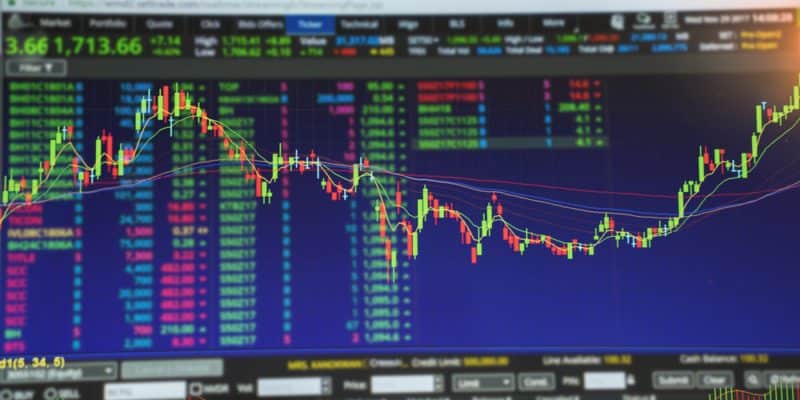 Forex Fury
Forex Fury is one of the best forex bots for trading on the market. Uses low-risk strategies with a drawdown of less than 20%. Compatible with a wide variety of platforms – MT4, MT5, NFA, etc. Pros:
The claimed success rate is 93%.
Round-the-clock customer service on the project website.
Minuses:
Expensive – $ 229 to sign up for an account on the Forex Fury website.
Centobot
Centobot is a whole network of bots for trading cryptocurrencies. Consists of 10 automatic robots that the user can choose independently for trading. Pros:
The yield is 300%.
Return on investment guarantee.
Minuses:
Compatible for trading with binary options holders only.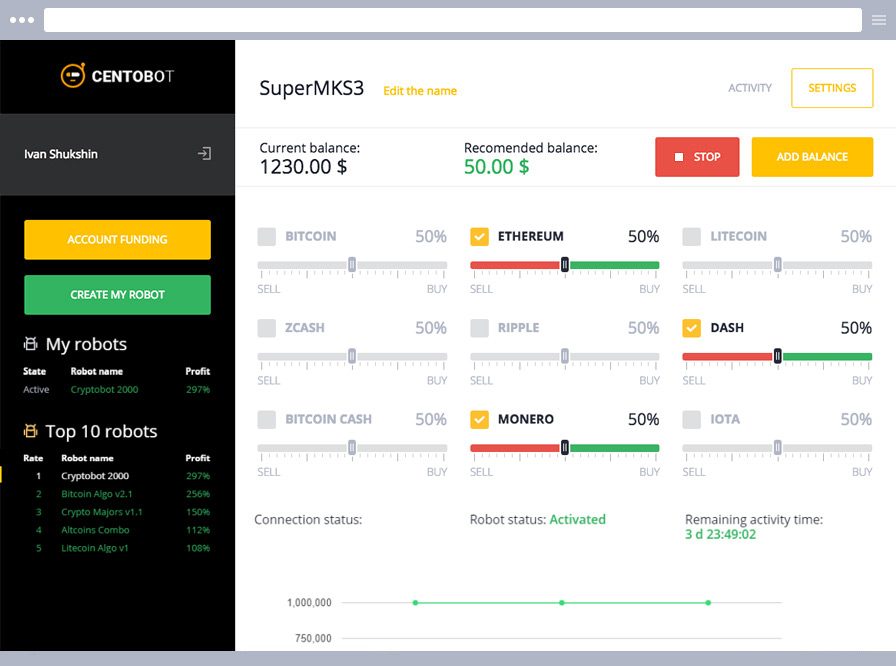 Do Forex Robots really help "make" money: https://youtu.be/0GbjPMznc14 The following forex-robots are also worth paying attention to:
AvaSocial – FCA Regulated Forex Robot Application
Quantum_AI- artificial intelligence in the world of automatic trading on world exchanges
So, at the moment there are a huge number of trading robots that optimize trading on Forex and the stock market. Each of them has both pros and cons. In order to choose the most suitable one, you need to know the trading strategy by which it works, as well as the "stack" that it uses in its work. This factor directly affects the success of your transactions. We hope that after reading this article, you will find the most suitable trading bot.